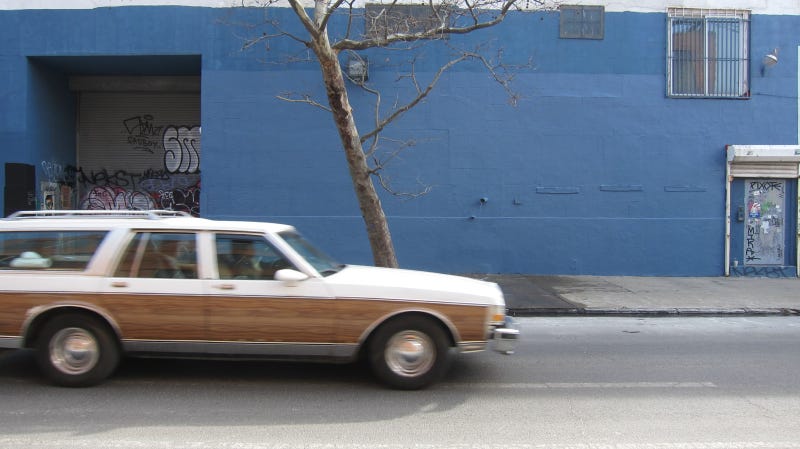 It wasn't so cold that my nipples immediately turned to hairy nickels today so I thought it would be a good time to do a little carspotting. I thought if Raph could do it, so might I. First stop: Brooklyn.
What I immediately noticed when exploring Williamsburg was an abundance of D-pillars, which is appropriate since estates are sort of the hipster of the automobile world. Formerly ubiquitous in popular culture, now passé, it becomes ubiquitous in counter automotive culture.
I barely captured the surprisingly clean Caprice Classic Wagon above, but it was the only woodie I saw so I'm glad I did.
A W123, but I'm guessing not Seinfeld's.
Down the street there was both a Passat and a Jetta — TDI, like they all are — with a bonus 5-door 1980s Toyota Corona Luxury Liftback.
Volvo 240. Of course. Fewer of these than you'd imagine. Too obvious.
E34 wagon, definitely used.

Dasher wagon... only used as a place to keep your misery.
Boom. Outback. Boom V70. Boom new 3-Series.
Ok, a Porsche G-Body Targa. I'm not a monster.
An allroad that's seen a lot of abuse.
Tercel SR5 4WD Wagon! Still clearly being used. That weird third window.
Newer Corolla DX wagon. Boring.
A4 Avant, before you were stuck having to get an Allroad variant.
A nice Mazda6. Still a beautiful car, thanks to a dynamic front and a nicely rising belt-line and probably useless spoiler. The roof rack helps.